Meeting Schedule
We hold Two meetings each month on the first and third Wednesday of the month. For April 2022, our meeting will be on April 6th and April 20th. All meetings are both 'in-person' and Virtual. The platform for the virtual meeting is "Zoom" where a meeting ID and Passcode are required. The Zoom sign-in link changes with each meeting, so please send GK Chris Kelley an Email at: chris081476@gmail.com or call him at 724-799-0249 to be added to the invitation list.
All federal/state requirements for Masks and Social Distancing will be followed.
Come join us for the Rosary at 7:00pm each meeting night followed by the Meeting at 7:30pm.
The "In-Person" Meeting Location (across Route-19 from Saint Alphonsus/Patron's):
Wexford Professional Building II:
Suite 2308 (Third-Floor)
11676 Perry Highway

Wexford, PA 15090
Enter from Rear onto 2nd-floor, take stairs/elevator to 3rd-Floor for meeting. Look for Room: 2308.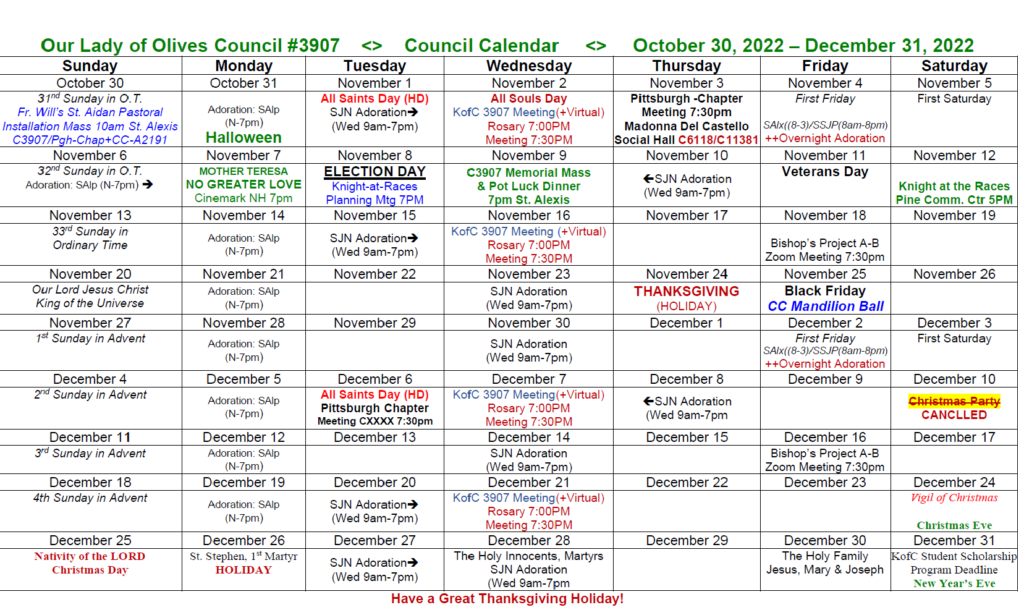 A Knight at the Races November 12th 2022
This year's "Knight at the Races" will be held on November 12th at the Pine Community Center, 100 Pine Park, Wexford, PA. Horses, Jockeys, and Race Sponsorships, are available to purchase. With your Purchase, you can name each Horse/Jockey and Race; and share in the Winnings, should they win their Race. GET YIOUR TICKETS NOW: (Only (47) Reservations Remain)
Joe Daquelente: 412-585-3138; joedaq@zoominternet.net or any C3907 Officer….
NOTE: Knight-at-Races Members PLANNING MTG's: Tuesdays: October 25th, plus November 8th 7PM….
KofC Catholic School/High School Student Grant Program
The Knights of Columbus Educational Foundation will be offering at least (50) $1,000 grants to members whose children attend Catholic Schools' Grades 1 through 12, where a Third-Degree member's child is enrolled. Last year, the Foundation was able to fund (100) grants to help our members Cover Tuition Costs. Applications will be received starting January 1st-31st, 2023. Applications can be downloaded from the KofC State website -< https://kofcpennsylvania.org/catholic-school-grant. If anyone has any questions, please call Shaun Lally at 412-726-7387.
Vivat Jesus! Shaun Lally 412-726-7387
PA State College Scholarships Program
TEN SCHOLARSHIPS, each totaling $3,000.00, payable in four installments of $750.00 per year, for Knights, Sons, and Daughters of Pennsylvania Knights of Columbus, and Columbian Squires: who are currently in good standing. Several other conditions must be met. Please review Lawrence Barkowski, Scholarship Chairman's webpage at: https://kofcpennsylvania.org/scholarships Application Deadline: December 31st….
Charitable Contributions
As we progress through our new "Fraternal Year" (July 2022 – June 2023) our Council is blessed to be able to continue making charitable donations throughout the year from our "Major Charities" fund.
September: $500 – Saint Aidan – "Hour of Power" Holy Hour; $712 – Coats for Kids – North Hills Community Outreach; $250 – Special Olympics.
Please note that these donations are separate from, and in addition to, the Council "Charity Fund" that Rich Karapandi maintains.

Vivat Jesus! SK William Romig Rich Karapandi PGK, Major Charities Director Council Charities Director
(Editor's Note: Anyone who wishes to donate to the Ukrainian Orphans, or any other Charity, and doesn't know the best way to ensure it gets to where it's intended, send your donation to KofC's "Major Charities Fund" at our Council P.O. Box and we will get it there.)